Spoiled tourists complain that there are no stylish restaurants in Jurmala, while others complain that Jurmala is very expensive. Both just don't know! In this article, there are three lists of restaurants in Jurmala: cheap cafes, coffee places and fancy restaurants.
---
Check the links to see all selections of restaurants and coffe places in Riga and Jurmala:
---
Where to eat cheap in Jurmala?
In this list there are 12 cafes where you can have a lunch for 5-10 euros.
Family cafe near the Livu aquapaek
Address: Vienības prospekts 37 in Lielupe.
The cafe serves simple home cooking. There are tables outside and inside. On weekdays you can dine for 3 euros.
They are called "the best chebureks in Jurmala." Cheburechnaya is located right at the exit to the beach near the Kinza restaurant. You sit on a small terrace and order a huge cheburek with cheese and meat for 3 euros, the dough crunches, the filling melts in your mouth.
Address: Baznīcas iela 2.
3. Pancakes in Jurmala
The cafe doesn't even have a name, just a pancake-pastry shop and a mini-canteen. You can even have lunch here, but for me this place reminds me of "visiting my grandmother" – you come, sit on the balcony and eat pancakes.
Address: Strēlnieku prospekts 16.
4. 4 koki
This is a cafe in Dzintari Park. There are only two cafes in the park, I'm talking about the one that is located on the side of the entrance from Jomas. The cafe has a wide range of ready-made meals and desserts. Suitable for any full meal.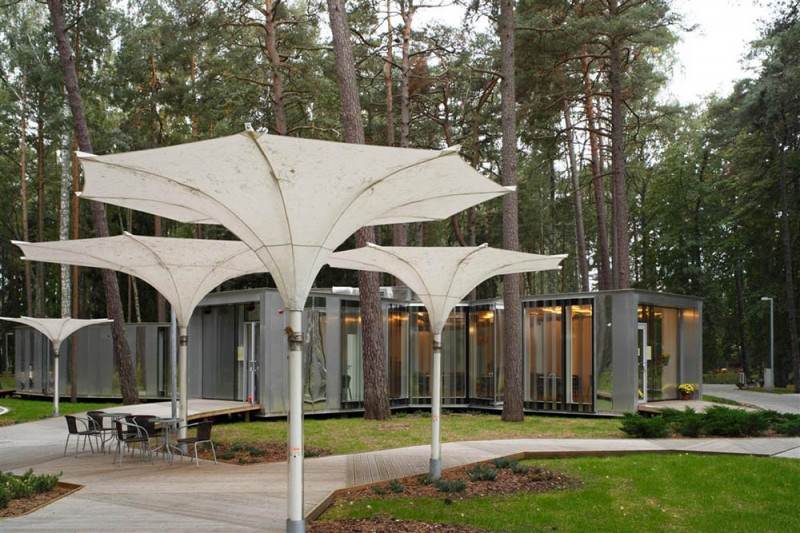 If you want a huge 45 cm pizza for 12 euros (the usual 30 cm will be about 7 euros, and a piece – 2 euros), this is the place for you. The pizzeria is located in Majori.
Address: Tirgoņu iela 21
6. Daily
Cafe – bistro in the rehabilitation center "Vaivari" on the ground floor (visible from the road).
Address: Asaru prospekts 61.
Family cafe in Melluzi with homemade food. It's really delicious there.
Address: MELLUŽU PROSPEKTS 11.
Simple Latvian cuisine. This cafe is situated in Kauguri. You can overeat for 10 euros: huge portions, many types of meat dishes.
Address: Kaugurciema iela 47.
9. The 36 linija van
It appeared after the liquidation and relocation of the famous restaurant. The van serves restaurant meals at a lower price. You have to try the shrimp salat.
10. Family restaurant Zem Buram
Located in Bulduri. Delicious kebabs and shashliks are prepared here. They also serve cheap business lunches here.
Address: Vidus prospekts 38 k-1, Jūrmala, LV-2010
11. Кафе – кондитерская – кулинария Dukats
It is located in Dubulti. The cafe serves ready-made homemade food and delicious pastries. There is a terrace and a shop.
Address: Baznīcas iela 12/14
12. Pandok
Armenian cuisine. Located in Bulduri. Very atmospheric place. Friends and relatives of the owner often have dinner at the restaurant. Children dance, sing. The atmosphere, as if he came to visit friends in Yerevan. Here you can eat very good meal less than for 10 euro.
Address: Meža prospekts 22A
---
My favorite restaurants in Jurmala for a romantic evening and / or a delicious dinner
This is a list of my favorite restaurants in Jurmala. The price tag varies but is delicious everywhere.
This is my absolute winner. Here is a magical view of the sea, amazingly delicious. It is also one of the most expensive restaurants in Jurmala, but the menu prices are fully justified.
Address: Jūras iela 23/25
Place with Instagram food. You order mashed potatoes, and a whole picture is made out of it. Plus, it's amazingly tasty and great service.
Address: Bulduru prospekts 52.
Armenian cuisine restaurant in Majori. Here they cook the best khachapuri in Jurmala. And also the portions are enormous!
Adress: Jomas iela 25.
Georgian cuisine restaurant in Bulduri
Address: Bulduru prospekt 30, 5 Linija.
The best sushi and Asian cuisine in Jurmala.
Address: Viestura iela 31.
Previously, it was a cult location in the Lielupe dune zone, where the entire Latvian and even Russian elite gathered. In 2020, the restaurant moved from line 36 to Dubulti, but it is still very tasty and stylish there.
Address: Baznīcas iela 2b.
Another restaurant with magical sea views and a sumptuous menu.
Address: Gulbenes iela 1a
---
Best coffee and desserts in Jurmala
I really love coffee and beautiful views. The best is to combine it. And this is possible in some of these places.
De gusto. Here they have the most delicious coffee in Jurmala and excellent pastries. But the place is not suitable for long gatherings: it is too crowded. It's more like a stopover on your stroll.
Address: Jomas iela 46
Kafijas Sturitis – is a spacious quiet place. The cafe has perhaps the largest selection of coffee that can be found in Jurmala. In the rain, it is nice to take a table by the window and enjoy a hot meal. In the morning – delicious breakfasts. The downside is the small selection of desserts.
Address: Bulduru prospekts 35.
Kalnakrastu Rausu Fabrika. Fresh and amazing pastries. There are only 4 tables here, and there is often a queue.
Address: Vienības Prospekts 35
Simply beach house. Cafe-Bar on the beach in Dzintari. Here coffee is made by a real barista, and you drink it overlooking the sea in any weather – the walls in the bar are glass transparent.
Address: Viktorijas iela.
Madam BRIOŠ. Beautiful desserts.
Address: Mellužu prospekts 9
Read also: Best places to visit in Jurmala.
---
---
Don't forget to subscribe to my instagram @july_choo! I write about unique locations, movies travelling, restaurants, and so on.